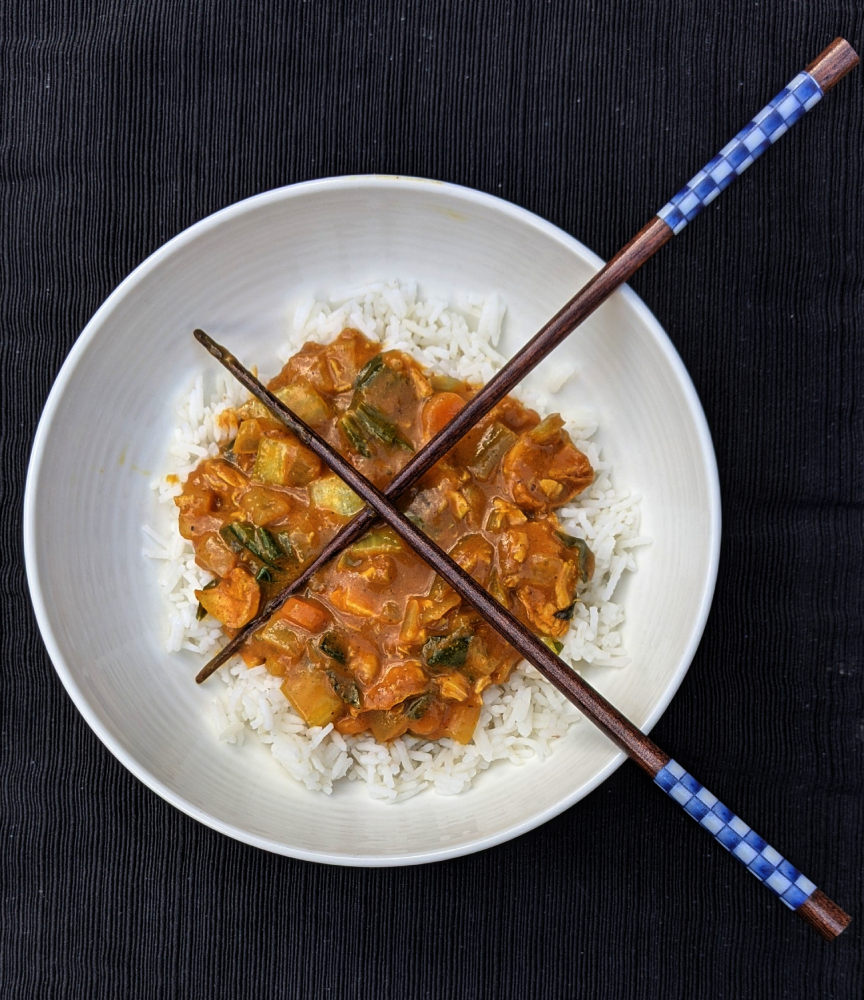 Ingredients:
2 chicken breasts, or 5-6 chicken thighs

1 can of coconut milk

¼ cup of tomato sauce

½ onion, diced

2-4 cloves of garlic, minced

Any additional vegetables you want: carrots, bok choy, bell peppers, etc.

1  tablespoon of curry powder

1 teaspoon of ground cumin

Pinch of black pepper

Pinch of salt

¼ teaspoon cayenne (if you like it spicy)

½ teaspoon ground ginger, or 1 teaspoon of fresh grated ginger

½ teaspoon turmeric powder

Splash of lemon or lime juice
Directions:
Place chicken into a large pan with some water. Cook the chicken on both sides, then cut up into cubes and cook some more until it reaches a temperature of 165 degrees Fahrenheit to kill any potential bacteria.

Drain any excess water and add the coconut milk and tomato sauce.

Add the onion, garlic, and any other vegetables you want to the sauce. Adding these first will allow them to cook fully.

Add the rest of the spices: the curry powder, cumin, black pepper, salt, cayenne, ginger, turmeric and lemon juice.

Allow the sauce to simmer on low-medium heat until the vegetables are tender and the spices have blended together.

Serve hot over rice or noodles and enjoy.
Review:
Curry is a very adaptable food. You can use whatever vegetables you have in hand, and you can adjust the spices to your preference. I typically add more ginger than this recipe asks for, and I like to to change up the vegetables each time. Even the type of curry can be changed from this recipe. If you were to take out the tomato sauce, you would get a lighter flavored yellow curry, and if you add some red curry paste you would get a different taste altogether. Curry is definitely one of my favorite foods. It is so warm and flavorful, and it's good any time of the day.