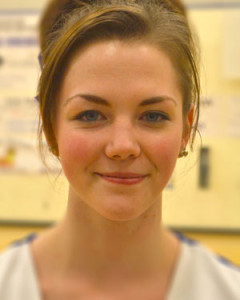 Passion is a driving force in our world today; motivating leaders, inspiring artists, and generating change. Passion is what encourages us to take brave risks, and what allows us to pick ourselves up and brush ourselves off when we fail. Many artists identify passion as the spark behind their success and their source of inner strength. Cellist Yo-Yo Ma believes that "passion is one great force that unleashes creativity, because if you're passionate about something, then you're more willing to take risks." High School student Cassidy Buehler uses her passion for dance to strive for the extraordinary. Her devotion and enthusiastic attitude already inspires young dancers throughout the community, and proves that she has what it takes to succeed in the competitive dance world.
Cassidy has been dancing for fourteen years, and has taken lessens for twelve. She was inspired to start dancing at the age of four when her parents took her to her first dance class. "When I was really little, my parents would always have music playing. They would always dance around with me and I loved it," Cassidy explains. Cassidy was then hugely motivated by the kindness and patience of her first dance coach, Monique Love. "She always pushed me so hard in class, and told me that I had too much passion to give up. If it weren't for her, I wouldn't be the dancer that I am today." Looking back on her dance career, Cassidy is proud on her early accomplishments. She notes the importance of her first team competition, and relays that, thus far, it stands as her proudest moments as a dancer. "The excitement and thrill of going on stage are performing with my team for the first time was such an adrenaline rush," she gushes.
Currently, Cassidy participates in ballet, jazz, lyrical, hip-hop, and contemporary dance, with lyrical and contemporary being her favorite. She ardors performing, and has taken part in many great performances. "My dance team and I preformed in Florida's half time show at the Orange Bowl in 8th grade. It broadcasted live on TV, and was an amazing experience!" she explains, "Aside from that, my dance team regularly went to competitions in various places like Las Vegas, Chicago, Billings, Idaho, and Spokane. We usually tried to do two competitions a year. On a smaller scale, we also did community performances for the winter and spring." When asked to describe her favorite performance, Cassidy became nostalgic. She explained that her most memorable performance was a duo that she did with her best friend. Her friend was moving away and it was the last time they were able to dance on stage together before the move.
As a senior in high school, Cassidy faces the many challenges of being a student artist. Aside from the huge time commitment that dance demands, Cassidy admits to struggling with the competitive nature of dance. "The most challenging aspect of being a student artist is wanting to be able to move like someone else. The dance world is very competitive, so people are constantly trying to be better than you. However, if you're always working to be better than someone else, you don't focus on yourself and get what you truly love out of dancing," she explains. However, Cassidy has found many ways to incorporate dance into student life, such as focusing her senior project on dance. She hopes to inspire other students to dance, and instill in them the same passion that she dances with every day. "I incorporated my love of dance into my senior project by choreographing a dance piece for a group of girls and I to perform. Many of the girls have had little to do with dancing, yet when they move I see the same passion for movement and love of dance. That passion is what I want to show through in multiple community performances of the dance I choreographed. I want to show Orcas this amazing power of dance." She hopes to illustrate the importance of dance as an outlet for young artists. "Dancing has brought me an outlet. Whenever I'm mad, happy, frustrated, or sad, I simply dance and everything is ok."
Cassidy hopes to continue dances throughout her entire life. "Whether I teach dance, take a couple classes, or become a professional choreographer, I want to make sure I always take a little time out of my schedule and dance," she comments. Her greatest aspirations is to become a professional dancer, but more than anything Cassidy hopes to prove to the world that striving for your dreams and perusing your passion is the greatest thing you can do. Her final words for aspiring young artists are that "dance is a brilliant and amazing thing to do, and it has the power to literally move mountains. Whatever you do, make sure you dance and share this amazing passion with those around you!"